Lethbridge city councillors and administrative staff had a chance to experience what it is like to be a firefighter yesterday. Fire and emergency services hosted them for Fire Ops 101 on Sept. 12, which included a simulated residential fire and vehicle extrication. Officials did not just watch, they got geared up and took part in the training alongside firefighters. 
Brent Nunweiler was part of the crew training the guests and said fire crews regularly respond to calls with fewer crew members than industry standard and he wanted city officials to understand the impact of this.
"We wanted to show everybody how difficult it is to operate on a fire scene with only three personnel responding," he said. "As decision makers, they are elected to decide where the funds go in the city and we want to give them an inside perspective on what that looks like and what we do on a daily basis to make their jobs easier when they have to make those difficult decisions. We are just asking for the tools to do our jobs and tools being staffing in this case."
Nunweiler said standard is four person crews and the Lethbridge Fire and EMS has three for fire calls. All members are trained in both firefighting and paramedic work, but he added ambulance crews can not always assist in the firefighting side of a call. 
Councillor John Middleton-Hope said it was a good experience for him and other officials.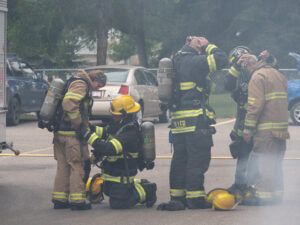 "From a layperson's perspective, it's interesting to see the equipment that has to be worn — today is a nice day, normally, if it's a 35 degree weather day, these guys are probably losing five or six pounds on just one of their calls. It's very heavy equipment," he said. "You can understand why it's so important to have the requisite number of firefighters going into each one of these events because if you don't somebody is going to get hurt."
Nunweiler said another round of recruiting will be coming up soon for Lethbridge Fire and EMS.
RELATED: 12 new paramedic firefighters to start working in Lethbridge this week