The next step in Lethbridge's overall curbside collection program was presented to City Council's Community Issues Committee (CIC) Monday afternoon.
Organics collection is expected to start in the spring of 2020 to a small group of residents before the entire program is rolled out in 2021. The plan is to reduce the amount of food waste which goes to the city's landfill.
Current waste audits estimate about 57% of the material collected in Lethbridge's black garbage carts is organic material. Using a processing facility, this organic material could be converted into compost instead, saving valuable space at the landfill while at the same time, reducing greenhouse gas emissions.
Waste and Recycling General Manager Joel Sanchez to Council they've now come back with research and ideas for Council's consideration around the green cart program. "That 57% organics in the residential garbage carts represents around 13,000 tonnes of materials that we could divert from the landfill. That's what we are really trying to target."
In a recent Lethbridge survey, 94% of respondents felt it was important to reduce the waste they generate in their home. The majority said they would be interested in curbside organics program.
The plan presented to Councillors Monday was for seasonal organics pick-up.
The total cost of implementing curbside organics collection to all Lethbridge residents on a weekly summer schedule and bi-weekly winter schedule is estimated at $17 million with $5.1 million as the annual operating budget.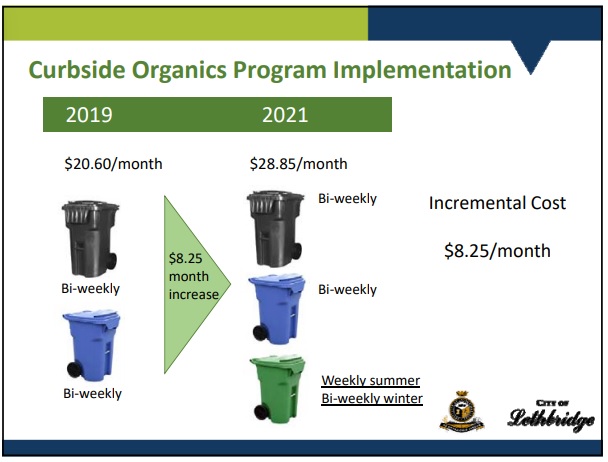 The program is predicted to bring in $5.1 million in revenues per year. This equates to an increase of $8.25 a month on a residential utility or a total of $28.85 a month for the entire curbside program.
"As part of the Residential Waste Diversion Strategy, Council has set targets for our city to divert waste away from our landfill," says Sanchez. "We've made some progress on that with recycling but we know organics would make a big difference in getting us to those targets."
Monday's presentation was for information only and no decisions have been made on the next steps for the City's waste diversion.
(With files from City of Lethbridge)