Lethbridge's ongoing drug crisis is continuing to have a big impact on the city's first responders.
City Council's Community Issues Committee (CIC) was given a report Monday from the Executive Leaders Coalition on Opioid Use.
Deputy Fire Chief, Kelly L'Hirondelle says the impact of the drug crisis has been growing on EMS. "The realization is that it does have an impact on our responders on a personal way as far as mental health and making sure that they are healthy (Lethbridge EMS) is priority for us."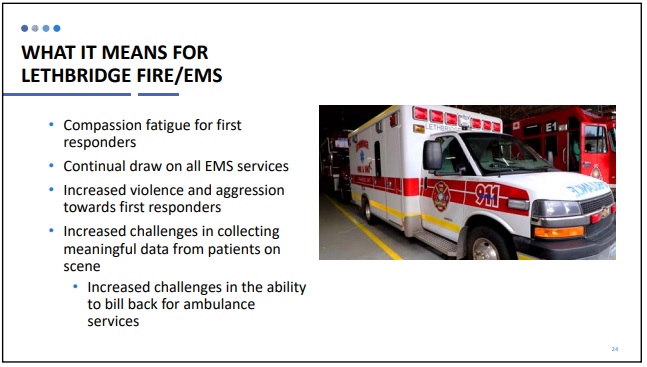 L'Hirondelle notes Lethbridge Fire and EMS is advocating for an additional ambulance here to help ease some of the pressure. He notes despite drug-related calls, they still have to maintain emergency medical and fire services to the entire community.
Council was told Monday the drug crisis continues to be drain on EMS here in the city with increased violence and aggression toward first responders.
ARCHES is also part of the Coalition and provided some updated stats on the Supervised Consumption Site (SCS). On average, the Lethbridge SCS sees 660 visits a day, which is much higher than any other supervised consumption facility.
Stacey Bourque, the Executive Director at ARCHES says 33% of those who use the local SCS are coming for inhalation services. "We have significant wait times for inhalation. We have people switching from injection to inhalation and that's exactly what we wanted when we opened the facility. If we had room for more inhalation rooms we would build them for sure. It's a huge support for those who utilize inhalation."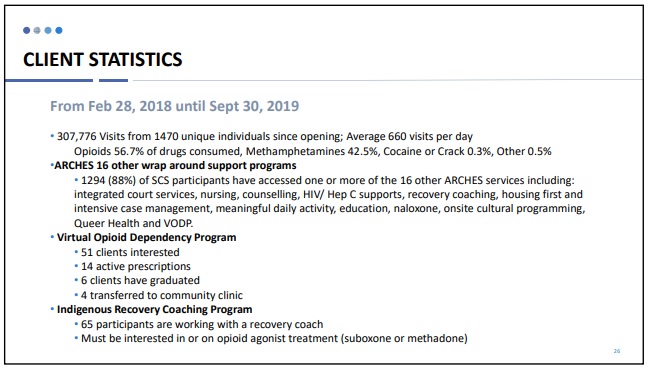 Councillors heard the reasons why the Lethbridge SCS has such high usage numbers have to do with a number of factors. Those include the inhalation services for one. No other SCS in North America offers that option. Other factors include the local facility is open 24 hours a day and the fact that the SCS is easily accessible for the location it'sat in a city the size of Lethbridge.
Lethbridge Mayor Chris Spearman meanwhile, showing some frustration with the lack of wraparound services in the city. He says the fact we don't have things like a supportive housing facility is a big concern.
"The fact that we only have supervised consumption at the moment and not any additional services is just creating a pattern of frustration in the community," says Spearman. "We don't have great levels of success. We have small numbers of people moving into treatment and recovery and that's the piece that needs to change."
Alberta's UCP government says it'll be spending $140 million on addictions and treatment services and it's hoped a good chunk of that money will be flowing to Lethbridge, however Spearman notes even if we receive some of the additional services it could take one to two years to get something built and up and running.
Regardless, they Mayor says it's important Lethbridge gets its share of those funds to make sure people here and in southwest Alberta have more access to treatment and recovery options.
Council's CIC also heard Monday about the impact the crisis is having on local police. Lethbridge Police Inspector Jason Walper says officers are seeing a lot more issues with methamphetamines. He says meth use creates erratic and sometimes violent behaviour in those who use the drugs. Walper notes that also means a greater risk to police, EMS, and others in the community.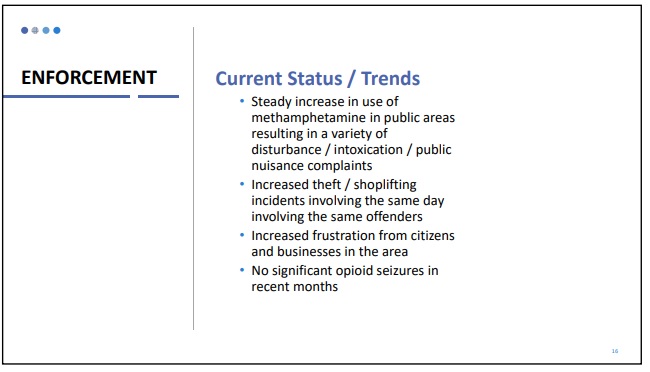 In late October, City Councillor Blaine Hyggen asked Council to direct the Police Commission to look at hiring eight more officers to help battle the increased crime problem.
A report is expected to come back to Council no later than Dec. 9th from the Police Commission looking at the cost of doing just that.