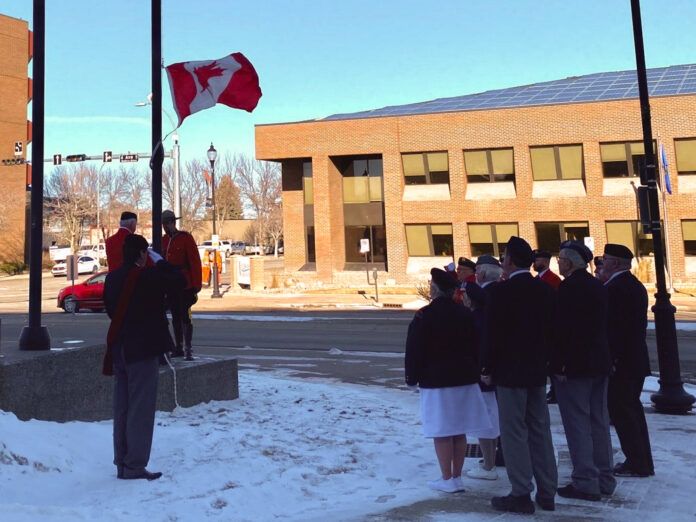 February 15th is National Flag Day across the country and members of the Royal Canadian Legion General Stewart Branch and the RCMP Veterans Association were on hand at City Hall.
On February 15, 1965, the lowering of the Red Ensign for the last time and raising the new Canadian Flag took place at Parliament Hill.
President of the Lethbridge Division of RCMP Veterans Association, Ken Taylor, says that RCMP were the ones who has been chosen to lower the Red Ensign and raise the new Canadian Flag we know now.
"There was a Junior Constable lowered the Ensign and then a Sergeant raised the new Canadian Flag for the first time over Parliament Hill," says Taylor.
This year is an important year for the RCMP as they mark 150 years.
Paul Brundige is the President of the General Stewart Branch No.4 Royal Canadian Legion here in Lethbridge and says that the flag gives us something that we can stand up behind and be proud of. The flag is a recognizable one, and people usually know who Canadians are and what we stand for.
The first flag was flown at Civic Centre in Lethbridge and then flown at City Hall in 1965, the change to City Hall makes sense to Brundige since that is a place to gather.
"This is the gathering point of your citizens. This is City Hall, where decisions are made, business decisions are made that affect our lives. Right here is where the flag should be raised and lowered and people should be aware of this is where we come to celebrate."
Brunidge says that Canada has been involved in Peacekeeping missions since Lester B. Pearson brought it in and since then they have been part of every mission, even today.