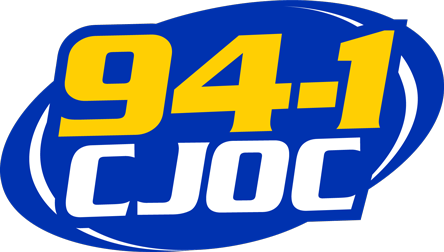 I'm an average-at-best wife, nowhere near mother of the year to our twin toddlers, dog mama and originally from Saskatchewan. I moved to Lethbridge in the fall of 2003 for work and think this is actually one of the greatest places in the whole world. I managed to get my sister to move here a few years after me, and we're still trying to get our parents to stubble jump into Alberta so we can all live closer together.
What's Your Favourite Song on CJOC?
Madonna's Like a Prayer
Where's Your Favourite Place to be on a Friday Night?
My couch with a glass (or bottle) of wine... we're going to watch a movie but I fall asleep within the first 20 minutes. It's been a long week.
Favourite Pizza Topping?
Black olives... it's a weird answer, I know, please don't hate me.
Beatles or Rolling Stones?
Stones!
CFL or NFL?
Rhythmic gymnastics
How Would You Get Off the Roof of the Water Tower?
I'd use the grappling hook on my Official Batman Fan Club Utility Belt and rappel down to safety.
What's Your Favourite Southern Alberta Event?
Street Machine Weekend, every single part of it is fantastic! Hunkering down on 3rd ave on a hot Friday night for the cruise... the burnt rubber smell that's stuck in your hair at the dash over at Exhibition Park on a sunny Saturday... and all the Show & Shine's... the entire weekend is always a blast!
You're at the Drive-in... What Movie is Playing?
Godzilla... I smuggled in a few beer in the trunk too so come say HI!
3 Facts You'd be Surprised to Know About Me:
I have 10 tattoos, all above my waist ... everything from the Batman logo to a giant Unicorn.
Jordan Karst officiated our small little Covid Wedding in 2020.
Cotton Candy, of any colour, is my absolute favourite food.