Lethbridge City Council has received a long-awaited urban social issues study which looks at the impacts of the Supervised Consumption Site (SCS) on the local neighbourhood.
The survey looked at the area downtown prior to the SCS opening and up, to a period of one after the site was in operation.
Dr. Em Pijl  from the University of Lethbridge conducted the study. She says it's clear this community badly needs wrap-around services. "This study was a longitude study over 13 months which explored the perceptions and observations of people who run businesses in the downtown areas of Lethbridge. It basically shows there is increasing anti-social behaviours and social disorder related primarily to the drug crisis that is happening and other lack of services that we are experiencing".
Pijl says Lethbridge has big city problems which aren't getting the same funding as Calgary and Edmonton, which means there are very few places people here can go to get help for substance abuse.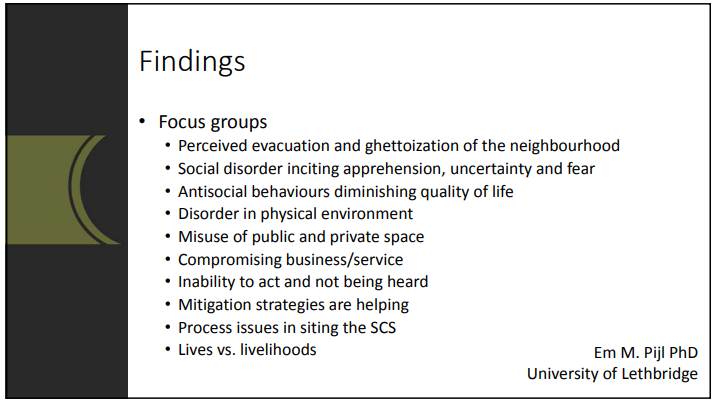 As the information above indicates, some of the findings include social disorder inciting uncertainty and fear, compromising local businesses, and the perception of a ghetto-type neighbourhood.
The fact a stark increase in anti-social behaviours may seem obvious to many, Andrew Malcolm, Lethbridge's Downtown Revitilization Manager, says it's good to a have fact-based report. "It's nice to know what people are taking about in the community is in fact, what we are seeing through this report. For us, it validates it and it allows us to make very measured decisions going forward".
Malcolm told media outside Council Chambers that having this baseline study completed through the University of Lethbridge is important. He notes they actually have academic data now from before the SCS opened and after, noting communities in the same boat as Lethbridge don't have that.
"For us, it's nice to have a statistical, arms-length report from the U of L to justify that", says Malcolm.
The study, which cost $10,000, was late in arriving at Council as it was supposed to have be ready back in September. Dr. Pijl told Councillors she had trouble getting some crime data from Lethbridge Police which delayed the report.
The full report is available on the City of Lethbridge web site: Lethbridge Urban Social Issues Study