A new 64-unit housing complex in Lethbridge will provide affordable housing to seniors. The Cottages at Southgate, a $15.8 million dollar project, was officially opened on Aug. 15 with a ribbon cutting ceremony. 
"The Cottages at Southgate project shows us the difference we can make in the lives of our seniors and the lives of those in our community when the non-profit sector, the private sector and all other orders of government work together for the common good," said Nathan Neudorf, Lethbridge East MLA. "More partners, more innovative funding and delivery models and of course making sure to listen to the voices of the community, will help us to realize a new vision for affordable housing in Alberta. The Cottages at Southgate is a great example of this and it will make a difference in our community — creating space in other areas of the city for others who need supportive housing."
Seniors will begin moving into the new community next week, according to Robin James, CAO of Lethbridge Housing Authority. The project offers a mixed income rental model, with half of the units originally being designated as subsidized rentals, but the province's redesigned rent supplement program could allow all units to be rented below market rate.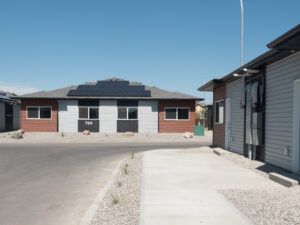 "When we opened the application for this, we immediately recognized there is more than 32 applications for the subsidized units, at which point we engaged with the province and they have offered us some rental assistance benefits for those other 32 units, allowing us to potential make this entire project something that is affordable for seniors in Lethbridge," James said. She added the market rate for the units is $1,250 and the rental assistance benefits will be up to $400.
The complex is also one of the largest residential solar panel projects in Lethbridge, according to Mayor Blain Hyggen. He said the project exceeded CMHC requirements of a 55 per cent reduction in operating energy consumption and greenhouse gas emissions.
"We are very proud of this project — it will serve the seniors of Lethbridge with safe, affordable and accessible housing. Seniors residing in the cottages will have an opportunity to age in place in this beautiful southside neighbourhood," Hyggen said.
The city contributed $790,000 to the project; $3.4 million came from the Alberta Social Housing Corporation; $4.8 million was from CMHC, plus $128,000 from CMHC seed funding; $6.2 million came from the Lethbridge and Region Community Housing Corporation; $500,000 was from an anonymous private donor.