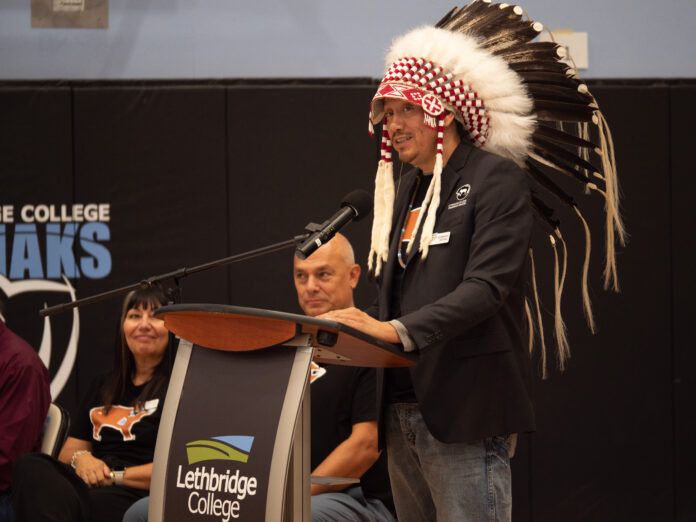 Lethbridge College unveiled a new Indigenous logo painted on its gymnasium floor on Friday and is the first in the Canadian Collegiate Athletic Association (CCAA) to do so. 
The middle of the floor still feature the Kodiak's bear, but is now surrounded by Indigenous art representing mountains and teepees. Manager if Indigenous Services Lowell Yellow Horn says this reflects the idea that "this is our lodge – the Kodiaks' lodge, and really brings it home for our student-athletes that this is a place of belonging."
The designs will also be worked into athlete's uniforms.
Visitors in the Val Matteotti Gymnasium will also see the word Aikowania on one side of the court next to a painted drawing of a bear. Aikowania refers to body awareness and movement. 
"Aikowania is at the heart of all our Kodiaks student-athletes want to accomplish, both on and off the court, field and trail," says Todd Caughlin, manager of Kodiaks Athletics. "It reminds all of us to be aware, and to be ready for what happens next. Whether we are talking about the tipoff of a basketball game, the extension of a bow while hunting food for winter, or the start of a final exam, we are stronger and more successful when our minds are sharp and our bodies ready to act."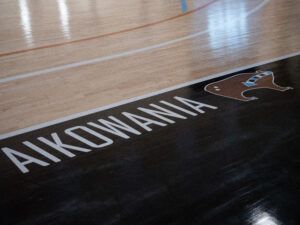 The drawing was created by Blackfoot artist Monte Eagle Plume and is purposefully not lifelike, according to Yellow Horn, as the Blackfoot people believe making something too lifelike will give it a spirit and make it come alive.
An arrow starts at the mouth of the bear and represents its life force. White dots represent the kidneys, one of the organs the Blackfoot people believe are the source of the supernatural power the animal possesses. 
"Honouring and acknowledging the traditional lands of the Blackfoot people by incorporating these important symbols on the floor and throughout the facility is both a dream come true and a constant reminder of our ongoing commitment," says Caughlin. "It is a commitment our entire college has made and it reflects our promise to every student who has passed through our doors, past, present and future."