A unanimous vote from Lethbridge city council has led to the designation of Oliver Block as a new Municipal Historic Resource.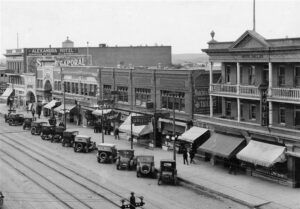 The two-story building was constructed in 1900, contributing to the city's commercial growth. The original wood framed structure in its place was used as a theatre for moving pictures and traveling shows. The new block was rented out and used for several various business ventures, including a billiards hall in the basement in 1914 and the Bank of Toronto on the ground floor from 1913-1915.
"The Oliver Block is significant for its association with early commercial development in Lethbridge and for its design," said Ross Kilgour, Senior Community Planner. "It is one of the finest buildings remaining from the early 1900s in our city and today's approval will ensure it will continue its storied history."
The building is known for its flat roof, the odd rhythm of the four bays and uniquely-sized windows for each, the brick parapet with a brick inscription that reads "OLIVER", painted wall signage on the side of the building, and the six skylights which provide natural light into the interior spaces.