Hundreds of University of Lethbridge students attended what was supposed to be a talk from former Mount Royal University professor, Dr. Frances Widdowson, with a clear message that she was not welcome on the campus. Widdowson was scheduled to give a talk on "how 'woke-ism' threatens academic freedom" on Feb. 1, but it was cancelled by the university after many students and groups spoke out against her. She stated she would still speak on campus and noted on her Facebook page that the university would "have to haul me away by security to stop me."
"On our campus, there is no room for hate. This controversial speaker and what they stand for is not something that aligns with the values of our institution and we are taking a stance. This is us having a peaceful demonstration," said Kairvee Bhatt, president of the University of Lethbridge Students' Union. "She is not welcome on our campus and she chose to do so anyways and I think that's a level of disrespect that she has shown our campus and relationships that she has broken here at the University of Lethbridge."
Widdowson was fired from her role at MRU in 2021, after concerns were raised over her views on residential schools and the Black lives matter movement. Though she was not permitted to speak publicly, she did give a guest lecture to a philosophy class on Jan. 31 titled "Should Universities 'Foster Respect' for Indigenous Ways of thinking." During the lecture, the title was written on the whiteboard with "NO!" underlined beneath it.
When she showed up to speak at 4:30 in the University Hall atrium, about 700 people were waiting for her, many wearing orange shirts and carrying signs stating "racism is not free speech" and "no place 4 hate."
To stop her from speaking, protesters yelled, chanted, drummed and danced. When Widdowson left the hall, much of the crowd followed and continued protesting until the chief safety officer of the university announced she had agreed to leave. He called it a "dangerous situation" and asked the crowd to make room for her to leave. Members of the crowd continued to denounce her views as she left and many stayed behind to listen to a different, impromptu speaker.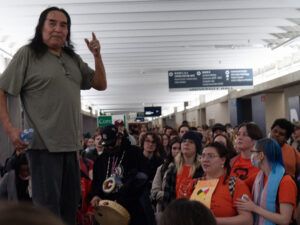 "She can say all she wants — she is just looking for publicity to put on her Facebook. A lot of our people are battling drugs and alcohol today because of the facts that the nuns and the priests and the people that worked in the boarding schools raped them, touched them, sodomized them and did very bad things to our people," said Don Bottle, who spoke to the crowd after Widdowson left. "I survived because I took the time to get help for myself but in the meantime, all of my friends died. She doesn't care, she has lived a lifetime. How come she didn't say nothing 40 years ago? Now she wants to post on Facebook to make a martyr of herself."
Many people in the crowd cheered in support of Bottle as he spoke. He expressed gratitude for the support as he both made them laugh and cry, sharing his opinion on the speaker and his own experience with residential schools.
"They had to take her away, why… It's because of you. You made the change today. You all took time out to support our people and everything that we have accomplished through the courts, through the justice system and through society. You made a difference today in your lives to stand up for what you  believe in."
University president and vice chancellor Dr. Mike Mahon issued a statement after the protest and said both the protest and a separate talk on the importance of truth before reconciliation, which happened at the same time, were a reflection of the values of the university.
"I would like to express my sincere appreciation to our community members for conducting themselves in such a peaceful and powerful manner," he wrote.
Though the majority was against Widdowson speaking, a few people attended to support her and chanted for "Freedom of speech."