Some good news when it comes to the number of people dying in Lethbridge from apparent accidental opioid overdoses related to fentanyl.
The second quarter Alberta Opioid Response Surveillance Report was released by the province this week.
It shows Lethbridge has seen 11 suspected fentanyl-related deaths during the first half of 2019 (January-June). That's compared with 17 during the same six month period in 2018.
The report issued by Alberta Health, says there were 116 fentanyl-related deaths in Calgary in the first have of 2019. That is by far, the highest in the province.
The full report can be found here: 2019 Alberta Opioid Response Report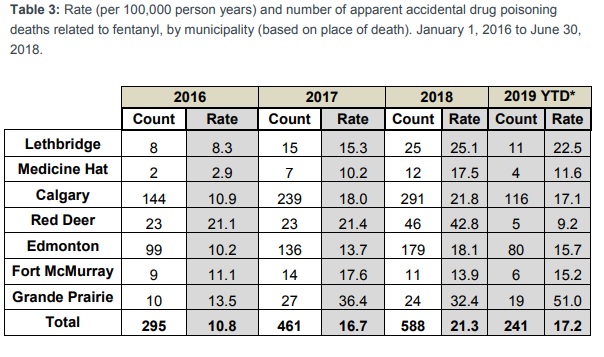 The report also goes through Supervised Consumption Sites. It indicates the Lethbridge SCS is, without a doubt, the most-heavily used in the province. The facility had record 248,012 visits between February 2018 until June 2019.
There's no other Supervised Consumption Site in Alberta that even comes close to those numbers. The Lethbridge location has been said to also be the most heavily-used of its kind in North America if not the world.

Averaged out over the 16 months it's been in operation, the Lethbridge SCS sees roughly 15,500 visits a month.
Overall however, in the second quarter of 2019, there were 153 apparent accidental poisoning deaths related to fentanyl in Alberta. By comparison, there were 135 of these deaths in the first quarter of 2019.