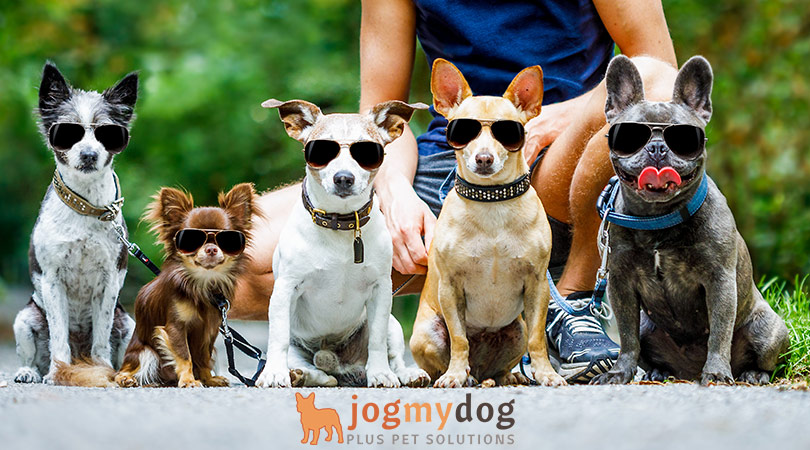 Jog My Dog Keeps Pets… And Pet Parents… Happy!
If you work in an office, you know how grueling it can be to sit at a desk all day.  Now imagine your pet, sitting by the front door, waiting patiently all that time for you to come home and spend some time with them.  The image almost breaks your heart, doesn't it.
Well, that doesn't have to be the case.  Jog My Dog Plus Pet Solutions is here to help pet parents keep their pets happy, healthy and safe by providing superior care in the form of activity, interaction, and plenty of attention.
Benefits Of Hiring A Pet Sitter
Let's face it – none of us really like to leave our pets at home when we are heading off to work or out of town.  But we can't all work in a pet-friendly office, nor can we take Fido with us on a work trip or on vacation.  Jog My Dog can help reduce stress by providing care for pets when you're at work, traveling, or are unable to meet the physical demands of your  pets.
Jog My Dog Vs A Friend Or Family Member
Some pet parents are lucky enough to know at least one person who's jumping at the chance to take care of Fido while you're away.  That's great and can save some coin but here's something to munch on.  He or she may love your pet and be happy to take care of him.  However, you might wonder how responsible this person is when it comes to caring for your pet.  Will they remember to walk them?  Will they feed them on schedule?  Will they administer medication if you pet needs it?  And do they have the experience to care for them when they get sick?
Even if your friend or family member is offering their pet sitting services for free – it may be better to hire a professional for the benefit of your peace of mind.
About Jog My Dog
Jog My Dog Plus Pet Solutions provides superior pet care while you're at work, on a business trip, or away on vacation.  They're committed to providing exceptional, reliable and loving care that'll exceed your expectations.
An Active Dog Is A Happy Dog
Getting your dog out for regular physical activity is important for their overall health, but with today's busy world it can be hard to keep up with the needs of your pets. Jog My Dog takes the stress away and makes it easy for you!  They pick up your dog for their daily dose of activity!  Your dog will not only get exercise, but plenty of socialization to keep their minds active as well!
What They Offer
Jog My Dog Plus Pet Solutions offers dog walking, pet sitting in their home or yours, poop scooping, and more!  To set up a meet 'n greet, and for more information, check them out on their website at  JogMyDog.ca
---

Text or Call Now (403) 393-7180
---