OAKVILLE, ON – Alberta, especially us here in the south, are in some serious need of precipitation this spring.
The Weather Network is out with its 2021 Spring Forecast for the country.
After this week, it indicates we could see cooler periods during March, April, and May for this area with above average precipitation for some places, which is good news. The not-so-good news is that might not be enough to alleviate a serious lack of precipitation.
Forecaster Brad Rousseau tells our radio station that after a very dry winter, southern Alberta's in desperate need of wetter weather.
"Whether that's enough (precipitation) to overcome these drought conditions it's tough to say," says Rousseau. "We really need a steady bout of precipitation for you guys to break that drought. Unfortunately, drought tends to create more drought. It just kind of prolongs that pattern as well."
As we can see on the map below, the only areas in the province expecting to see damper conditions this spring along the Rocky Mountains and extreme southwest Alberta.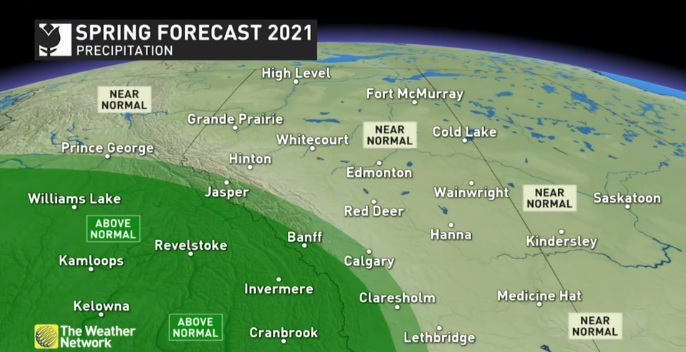 As for temperatures, Rousseau says most of western Canada is expected to see conditions tipping to the cooler side this spring.
"Early March we will see these above seasonal temperatures, but as we hit mid-March and through the rest of the spring we expect that kind of cool trend to prevail. We do expect to see normal amounts of precipitation across much of the province (with the exception of the areas in the above map)," Rousseau stated Monday.
As for the rest of the country, The Weather Network says central and Atlantic Canada will see normal and above normal temperatures, respectively, but even these regions should still expect some parting shots from winter.