City Council received an update Monday (Nov. 18) from City Manager Bram Strain today on the operational review process now that the phase one report has been completed by consultant, KPMG.
You can see the full report here: Phase One City of Lethbrdige Operational Review
Council heard that KPMG focused on eight City departments in phase one and has provided a number of recommended opportunities for consideration including areas for service changes in the community, internal structure changes and areas for cost savings.  The review was based on comparisons with practices and benchmarks from other municipalities, the expertise of the KPMG team and input from City Council, staff and stakeholders.  Phase one was undertaken between May and September 2019.
The report provides key findings and opportunities including: changes to Recreation and Culture Fee for Service Agreements with community groups, transitioning the operation of school bussing back to the school divisions upon expiration of the current agreement, reviewing the eligibility requirements for ACCESS-A-Ride service to better assist those who truly need it, altering the governance model for the ENMAX Centre, department reorganization in Human Resources, Recreation and Culture and Facility Services and reviewing the number of City facility assets to reduce yearly maintenance costs.  Implementing suggested changes could see a cost savings of up to $15 million per year.
 "This report is providing City Council and Administration with hard data, analytics and recommendations allowing for fact-based decisions moving forward," says Strain. "In the near future, the community will start to see City Council bringing resolutions forward for consideration."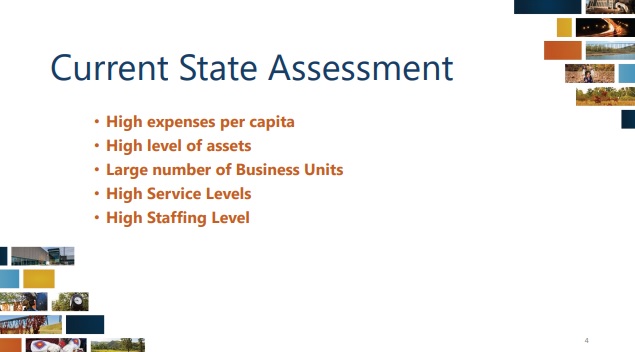 "I am pleased with the expediency of the operational review process," says Councillor Jeff Carlson, who originally brought the resolution forward. "City Council asked for this review to happen so we could make good financial decisions. This process is doing just that.  We now have good information and data at our fingertips to move forward in a thoughtful way."
"City Council's focus for the duration of our term is on accountable spending and we need to be planning and budgeting in the best possible way," says Mayor Chris Spearman. "This phase one report will allow us to take an in-depth look at our fiscal performance in key areas and make solid decisions. It is now up to Council to respond to recommendations and decide the service levels we want for our community."
 In November 2018, City Council unanimously approved a resolution instructing Administration to conduct an operational review of all City operations over the next three years.
This phase was broken into two sections, with section one seeing a general review of all City departments as well as comprehensive reviews of selected departments including: Real Estate and Land Development, Integrated Risk Management, Information Technology Services, Human Resources, Recreation and Culture, Lethbridge Transit, ENMAX Centre and Facility Services.   Phase two will consist of a comprehensive review of nine additional departments, primarily in Infrastructure Services and will begin next month.
Expected completion of the entire operational review is three years and any Council decisions will need to be brought forward as a resolution at future Council meetings.
(City of Lethbridge Release)