LETHBRIDGE, AB – UCP MLAs have blocked a proposal from the Official Opposition to hear more details about the government's plans for coal mining in the Rockies.
At a special meeting of the Public Accounts Committee Tuesday morning, the NDP was to call for officials from the Ministry of Energy and the Alberta Energy Regulator to be invited to appear before the committee next week.
However, eight UCP MLAs voted to adjourn the meeting after only five minutes before the matter could be discussed.
Lethbridge West MLA Shannon Phillips chaired the meeting and didn't hide her frustration with the motion before adjourning, encouraging members to "ask themselves whether this is appropriate oversight for government business and appropriate execution of one's duties as the legislative branch."
"Public Accounts is the only committee in a parliamentary system that the Opposition chairs. In most places, it is where the whole Legislature actually works together for accountability and transparency. The Auditor General is also on the committee. It's a backwards-looking analysis of the books: did the government spend money appropriately? How will they improve accountability? All governments, of all stripes, need to be subjected to this function. But the UCP has corrupted this process. I've honestly never seen anything like it. Even Ralph Klein's PCs had far more respect for Public Accounts." – Shannon Phillips

Lethbridge East MLA Nathan Neudorf, Livingstone-Macleod MLA Roger Reid and Cypress-Medicine Hat MLA Drew Barnes were among the UPC MLAs who voted to adjourn the meeting.
The NDP alleges the government has been attempting to mislead Albertans about coal mining, accusing them now of running away from even discussing the issue.
Deputy Chair for the Standing Committee on Public Accounts, MLA Calgary-Fish Creek, Richard Gotfried, issued a statement Tuesday as well, saying the NDP called the meeting on a Tuesday after a long weekend with no notice, collaboration or consultation.  He says the meeting was called in bad faith and the members voted to adjourn it to the agreed-upon date of April 6, 2021.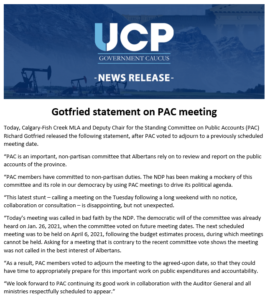 Lethbridge East MLA Nathan Neudorf says he supports this statement from Gotfried, adding "as far as my stand on coal mining goes, I have said multiple times through various means that while I support responsible resource development in Alberta, I also want clearly defined responsibilities on land reclamation and better protections for our water. I will continue to advocate for water purity and protection of our land and landscapes, issues I have heard loud and clear from constituents."