The controversial Supervised Consumption Site (SCS) in Lethbridge will operate as it is, at least until the provincial government completes a review of the local facility along with a number of others across Alberta.
On Monday (Aug. 19), Lethbridge City Council voted down a resolution put forward by Councillor Blaine Hyggen which aimed to prevent needles from leaving the ARCHES-run SCS. It also would've asked the province to halt funding to the local facility until after the review was complete.
The often contentious and heated debate lasted for nearly two-and-a-half hours. The resolution failed by a 6-3 vote with only Hyggen, and Councillors Ryan Parker and Joe Mauro voting for it.
Hyggen and Mayor Chris Spearman got into a heated exchange with Hyggen suggesting the SCS was a party place of sorts where addicts were not only getting to use their drugs, but also getting food supplied to them. The Mayor, however shot back accusing Hyggen of "crying wolf" in regards to where he was getting his statistics and information from. Earlier in the meeting, Hyggen had questioned data provided by ARCHES regarding use of the facility and the distribution of needles.
In the end, cooler heads prevailed with both sides for and against the resolution agreeing it was time to move forward and advocate for additional supports to assist in tackling the ongoing drug crisis.
Last December, the former NDP government had pledged $11.2 million for a supportive housing complex for Lethbridge as another piece to help fighting the issue. The new UCP government however, has put this proposed project on hold.
Hyggen said after he understands the concerns, but he felt there has to be more than can be done. He noted at no time was he asking for the Supervised Consumption Site to be totally shut down.
"No, absolutely not. Looking at the resolution it's just the way it's currently operated I don't support. This is one of the pillars. We do need to have it in our community. The frustrating part is what was happening inside and outside. It called the Supervised Consumption Site for a reason. It's to be in there to be supervised to consume those drugs of your choice and for that reason I was frustrated. Not to have it shut down, just to be used for the purpose it was supposed to be used for", says Hyggen
Mayor Chris Spearman, who's been a staunch advocate for the SCS voted against the motion as expected. He said the reason the facility is here is because there was a drug issue well before the Supervised Consumption Site. He's hopeful Council can now be united on what has been a divisive issue and push the province for much-needed supports. "It's been very divisive. We've had over 440 direct letters from people caring enough to write. The whole community is affected. What I think we need to do is provide a united input. The province, how do they help us turn this around? I think the most expensive option is to do very little and allow addiction to continue to waste lives and raise the cost of health care."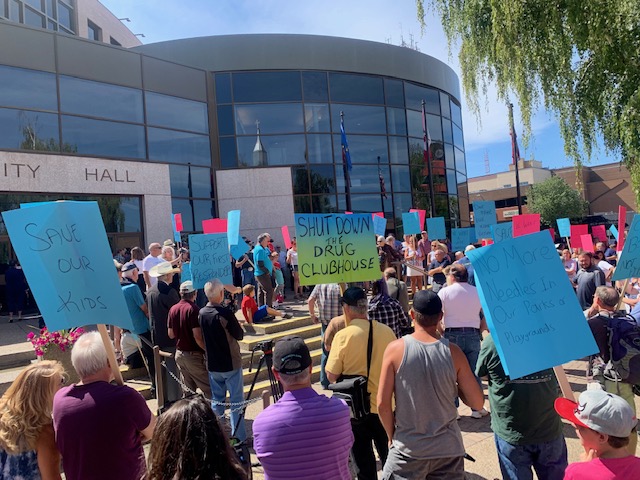 Given the new provincial review taking place, Councillor Jeff Coffman suggested this resolution was pointless at this time. He did however, thank Hyggen for bringing this issue for debate.
The three Councillors who voted in favour of the resolution felt the SCS was not doing what it was intended to do and suggested it was actually doing more harm than good. They also touched on the impact this has all had on local businesses.
The big concern some Council members had if this resolution passed was the potential for pushing users back into public places like libraries, washrooms, etc to do their drugs.
City Council chambers was full for the debate. Prior to the meeting, hundreds of people rallied in front of City Hall both for and against the Supervised Consumption Site.
The provincial SCS review will take place in September. No time line as to when the results will be made public.