After four and a half years on the job, Thursday (Sept. 12) was the last day for Lethbridge's outgoing Police Chief.
Rob Davis announced his resignation in early July, saying he was moving back to Ontario where he grew up to lead the Brantford Police Service.
Davis says was presented with the LPS flag flying outside the police building in special ceremony. Davis actually was the one who instituted a new policy to honour retiring officers or those moving on with an LPS flag.
He told a number of people who gathered to watch, that this job with the LPS was one of the best he's every had.
"We've accomplished so much in such a short period," says Davis. "The willingness of the community to be part of all this. The CPOs (Community Peace Offices) and The Watch wouldn't have happened if the community wasn't vocal. They were very vocal in our surveys that they wanted to be part of the solution and that they wanted something different."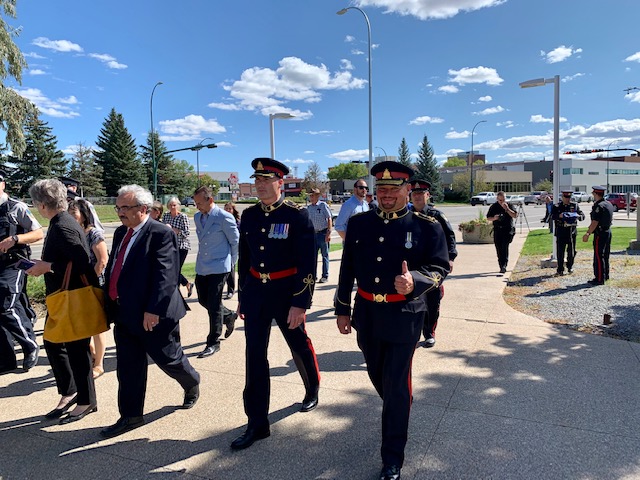 The Lethbridge Police Commission is expected to provide further details on the search for a permanent replacement on Friday (Sept. 13). In the meantime, Deputy Chief Scott Woods has assumed the role of Acting Chief.
Davis says he's learned a lot of lessons when it comes to the local drug crisis here which he plans on taking back with him to Ontario. He says those issues are moving from west to east and he feels his experience in Lethbridge dealing with those issues will help him in his new position.
As for advice for the next Lethbridge Police Chief, Davis says that person will have to stay the course. "You're seeing these tactics used across Canada to try and derail police chiefs and missions", says Davis. "We're (LPS) into year one of a four year business plan and a new mission, vision, and values. So whoever the new chief is just stay the course, keep modernizing the police service, and engaging the community."
Peter Deys, Chair of the Lethbridge Police Commission says going forward, the commission would intend to work with an executive search firm to conduct some community stakeholder engagement before a new chief is hired. "Just to find out what attributes the citizens of Lethbridge and members of the Police Service think that person (the new chief) should have."
Several people, including police officers from Lethbridge, Taber, Blood Tribe, and Medicine Hat came to say goodbye to Chief Davis.