People staying in the encampment at Civic Centre field in Lethbridge were once again displaced by city workers and police on Aug. 18. Police had a heavy presence, with about six vehicles at one time in the afternoon and tickets were handed out to at least some of the residents for trespassing. One person said the ticket she got was for $600.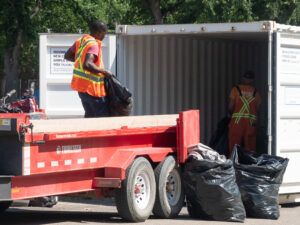 The city provided warning to those staying in the camp on Tuesday and were at the site most of the day Wednesday. City workers collected refuse from the encampment and put it into a shipping container. Police spent time asking residents what they would like to keep and what should be thrown away.
Bill Ginther, executive director of the Lethbridge Soup kitchen commented on ticketing people experiencing homelessness earlier in the month during another teardown at Civic Centre.
"We all know that it doesn't make any difference," he said. "I understand where the police are coming from, it's difficult. It's your job to enforce the law and you're told to do it by your superiors and you issue a ticket. Well that ticket will not be paid so you know you're putting people on one path and that is to jail and you are not solving anything at all."
Officers on scene would not comment on ticketing and enforcement at the encampment, but confirmed tickets were being issued. In an interview in June Deputy Chief Gerald Grobmeier said police are "very cognizant about criminalizing the vulnerable population." 
"We don't want to be criminalizing them all the time because the reality is more times than not, these individuals, they need help and the criminal justice system doesn't provide that assistance," he said. "On top of that, to go into these camps and start charging people for very very small crimes, our court systems just can't manage that. The backlog is just too great and those matters will never see the time of day."
READ MORE: Civic Centre Park encampment tear down postponed after shooting
Ginther was concerned tickets would lead to people being arrested because they fail to pay them. He said he would like to see real compassion, rather than the city's branding as "compassionate cleanups."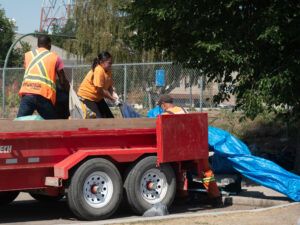 The city is looking at creating a temporary sober shelter at the Civic Centre Curling rink, but prior to making that decision earlier this month, council allocated an additional $230,000 to encampment cleanups. Of the money allocated last month, $110,000 was for Lethbridge police and private security. 
BACKGROUND: Lethbridge approves additional $230,000 to remove encampments
The sober shelter is not yet approved and will come back to council once city staff has done research, looked into needed renovations and worked to get operating funds from the province. The city estimates it could be operational in November. 
READ MORE: ​​Lethbridge to look at temporary sober shelter at Civic curling rink